The mint race heats up tomorrow with the upcoming release of ten new Tool NFTs, soon to be available in the Outpost. These additions promise to offer enhanced optimization options for your mining rig. The 'Emergence' collection will feature eight Common Tools, one Rare, and one Legendary. Get ready to challenge your friends to be the first to mint these potent new Tools! Continue reading for a detailed breakdown of the new tools, categorized by their attributes and shine.
Common NFTs
Shiny Explosive
This new Common tool was inspired by the Basic Explosive and provides a balanced mining experience. With a 1,500 second charge time the Shiny Explosive allows time to socialize in our Discord channel in between attempts.
Extreme Extractor
Upgrade from the Power Extractor with the new Extreme Extractor. This new tool is geared towards Trilium Mining but also provides a small burst of NFT power.
Exo Claws
This new iteration of the Exoglove allows you to quickly mine for NFT points instead of Trilium, with a small amount of Trilium mining power as an added attribute.
Dusty Extractor
Inspired by the Gasrigged Extractor, the Dusty Extractor provides a balanced mining experience for players wanting to excavate Trilium and NFT points.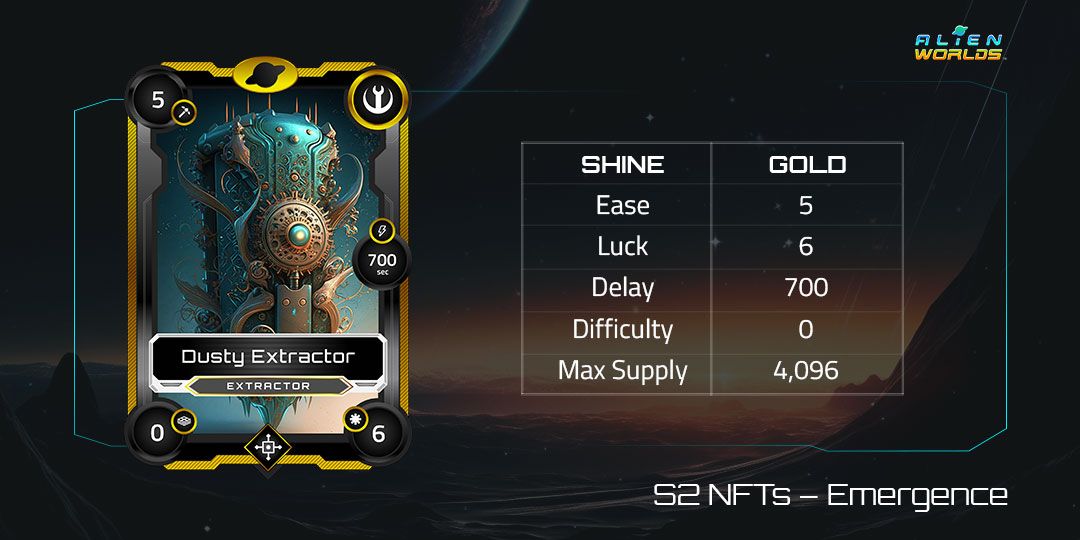 Plasmatic Extractor
Closely related to the Infused Extractor this new Common tool was designed with Trilium miners in mind. By combining plasma with the extractor, engineers were able to add considerable efficiency to the extraction process.
Cymatic Saw
This powerful saw marks the second generation of Manipulator technology and provides you with plenty of Trilium mining power with enough NFT mining power to make your excavation efforts feel balanced.
Rookie Treasure Locator
This new tool was designed with achieving the opposite effects of the Basic Trilium Detector in mind. The Rookie Treasure Locator provides easy access to Mining NFT points for Explorers wanting to start building their NFT collection.
Certified Kol Digger
The name is inspired by the infamous Kol, who Neri defeated during Syndicate activation. Closely related to the Power Extractor, this fast charging tool provides a balanced mining experience with a fast charge time so that you can maximize your number of mining attempts.